A+ GRADE NEW lifepo4 4Pcs 12V F602000C 50AH pulse discharge to 3C rechargeable battery cell for forklift EV bus golf car solar
- 2022-11-16 -
Product Parameters
A+ GRADE NEW lifepo4 4Pcs 12V F602000C 50AH pulse discharge to 3C rechargeable battery cell for forklift EV bus golf car solar
| | |
| --- | --- |
| Normal capacity | 50ah |
| Normal voltage | 3.2V |
| Standard Charging voltage | 3.65V |
| Internal resistance | ≤0.7mΩ |
| Standard Discharging Method | 25±2℃ 0.5C constant current discharge to 2.5V |
| Max. Pulse Charging Current | 2C (15℃~45℃, 50%SOC) ≤30S |
| Max. Pulse Discharging Current | 3C (15℃~45℃, 50%SOC) ≤30S |
| Weight | 1.10kg±0.20kg |
| Mass Energy Density | 145Wh/Kg |
| Volume Energy Density | 308Wh/L |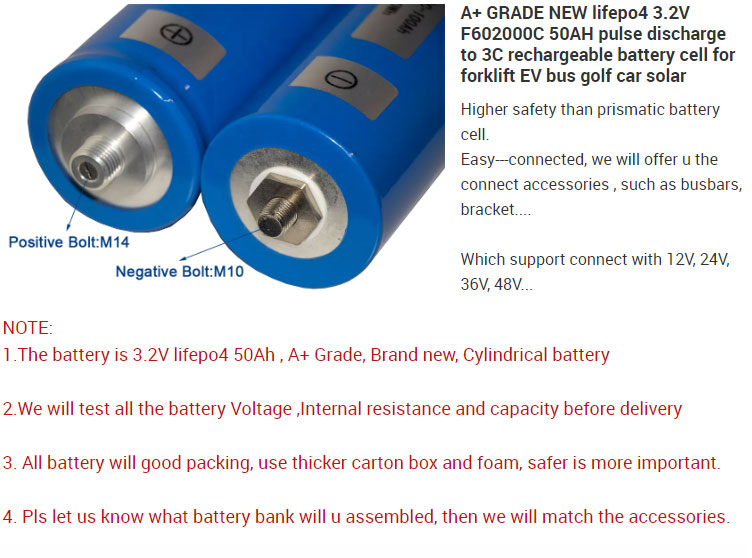 A+ GRADE NEW lifepo4 4Pcs 12V F602000C 50AH pulse discharge to 3C rechargeable battery cell for forklift EV bus golf car solar
Packing as below picture, from factory, each battery have foam and choose thick box, just for safety.
When shipping agent received it, may change into better box, such as add one more bigger box at the outside for 2 box
.

Each battery will test it well before shipment.
Also, we will match each battery pack well according to clients needs, such as 8S8P, 16S…….
By this matching group methods, can make each battery pack single cells have the almost same performance, which is good for battery pack lifespan.